HDBScan
Overview
Clustering at it's heart is about grouping data points that are very similar.
Clustering is naturally centroid based (assume shape) or density based (data to define shape).
Hierarchical Density Based Spatial Clustering for Applications with Noise (HDBSCAN).
Architecture
There are 5 steps involved in HDBScan.
1.Transform The Space
The goal of this stage is to separate the noise from the data (the sea from the land).
This doesn't have to be perfect - just the initial stage.
We need an inexpensive metric of density - something that is local and quick to compute - distance to kth nearest neighbor.
This pushes the sparse points further away and also has the nice triangular property.
2. Build Minimum Spanning Tree
Minimum Spanning Tree is the minimum distance to traverse all the nodes in the tree.
We build the tree one edge at a time, always adding the lowest weight edge that connects the current tree to a vertex not yet in the tree.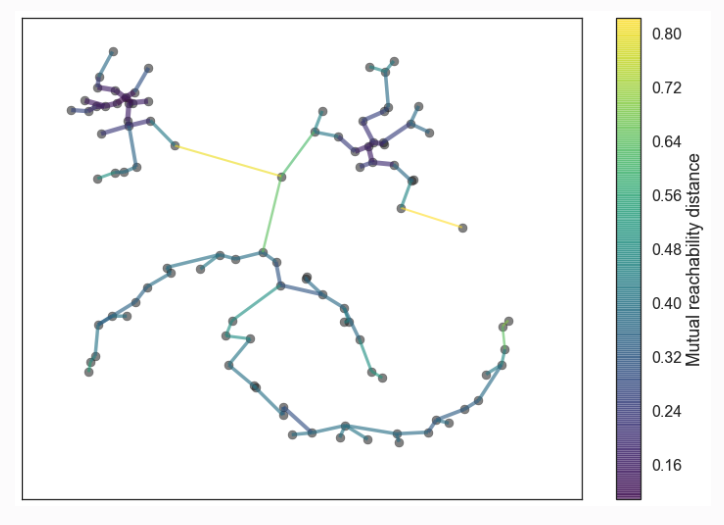 3. Build Cluster Hierarchy
The goal is to convert the minimum spanning into cluster of connected components.
Sort the edges of the tree by distance (in increasing order) and then iterate through, creating a new merged cluster for each edge.
In DBScan, unintuitive parameter called epsilon (radius) - larger epsilon, single cluster.
For very small epsilons, we're guaranteed to find the density cluster tree.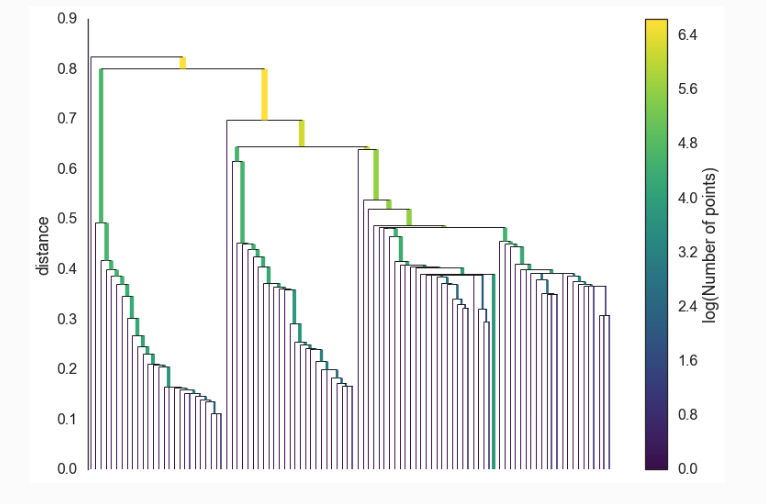 4. Condense Cluster Tree
At each split ask if one of the new clusters created by the split has fewer points than the minimum cluster size.
If it is the case that we have fewer points than the minimum cluster size we declare it to be 'points falling out of a cluster' and have the larger cluster retain the cluster identity of the parent, marking down which points 'fell out of the cluster' and at what distance value that happened.
If on the other hand the split is into two clusters each at least as large as the minimum cluster size then we consider that a true cluster split and let that split persist in the tree.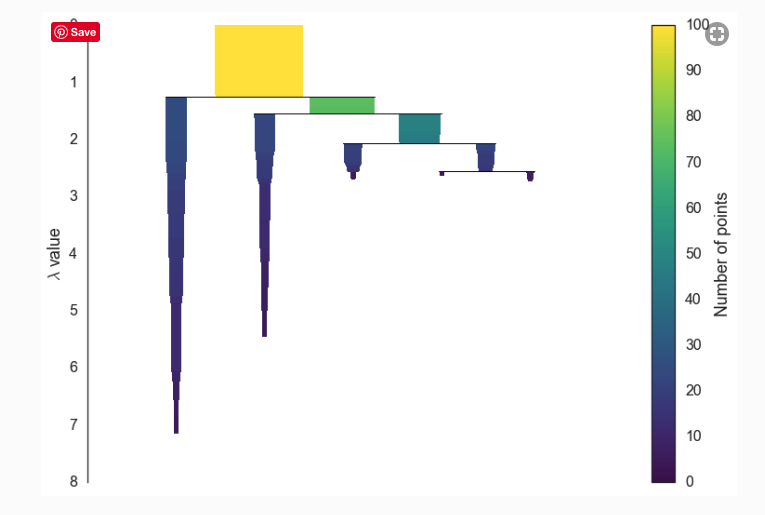 5. Extract The Clusters
Intuitively the goal is to pick the clusters with maximum area and if we pick a cluster, we can't pick the children.
First we define a lambda measure which is the inverse of the distance. We define this measure at birth (when the cluster was formed) and at death (if any).
Stability of the cluster is the sum of the stability of individual points in the cluster.
References