Single Headed Attention RNN
Overview
The goal is to build a simple language model that can run in a single GPU and still do well.
Due to above, the goal is to avoid Transformer architectures and see if we can use the traditional LSTM.
Architecture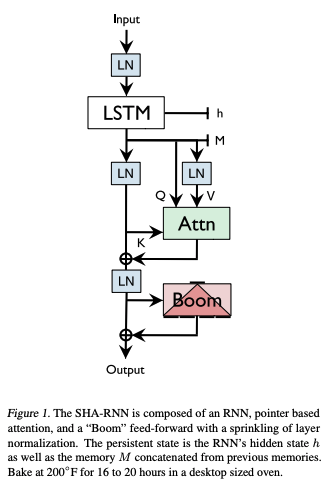 The model consists of trainable embedding later, a single headed attention LSTM layer followed by a dense softmax layer.
The weights from trainable embedding layer and the dense softmax layers are shared.
Single Headed Attention
Similar to transformers's MHA but just 1 head :P
Boom Layer
2 feed-forward layers with GELU (project big and then back).
Results
| Model | Bits Per Char |
| --- | --- |
| LSTM | 1.182 |
| SHA-RNN | 1.100 |
| Adaptive Transformer | 1.04 |