Pangloss: Fast Entity Linking in Noisy Text Environments
Overview
Entity Linking is the task of mapping potentially ambiguous terms in text to their constituent entities in a KB like Wikipedia.
Pangloss is entity disambiguation for noisy text.
Combines a probabilistic linear-time key phrase identification algorithm with a semantic similarity engine based on context-dependent document embeddings.
Entity Linking identifies a phrase (or surface form) in a text and links it to an entity in a KB.
Challenges include synonymy (multiple ways to say a cup of coffee) and polysemy (Tesla means both man and machine).
Architecture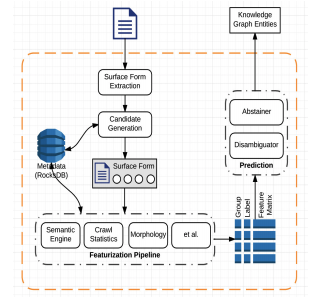 Datasets
Wikipedia, Wikipedia PageViews, LOD Wikilinks, Common Crawl and Workplace Chat.
Surface Form Extraction
NER doesn't work for workplace chat (bad grammar and syntax).
Apply segphrase - can also use probability of a phrase being a link in Wikipedia.
Candidate Generation
Given a (surface form, text) pair, one approach is to do a multi-class classification on the entities. However, this doesn't work well in practice (need lot of data).
Use anchor text from links as a way to reduce the number of candidates being considered.
Joint Embedding
Create embeddings for surface form text and KB entities in the same space.
Convert power steering to power_steering to compute embeddings for surface form text.
For entity embeddings, insert a token (uri:wiki/Wintermute) following the anchor text linking to that article.
Disambiguation Features
Semantic Similarity - TF-IDF weighted embedding, use HDBSCAN for clustering similar entity forms.
Anchor Text - Read More on this.
Popularity - the number of inbound links, the total number of page views each entry receives, the number of pageviews via redirect pages, and the number of outbound links (total and unique).
Morphology - Levenshtein distance.
LTR & Abstaining
(Surface Form, Passage, Entity) -> True/False
Performance is improved by employing a pairwise preference algorithm that learns a model to determine which of two training examples should be ranked higher. Pairwise XGBoost with cross-validated hyperparameters for gamma, learning rate, number of estimators, max depth, and minimum child weight yields the best relevance versus runtime performance.
The abstain model can only improve precision.
Abstain Model - given (surface form, text) can this be meaningfully linked?